26 May
2014
Join us in DC for the Anancy Festival 2014! Register on http://www.SocaMom.com/ or at http://www.anancyfestival.eventbrite.com/ – see you on June 14th!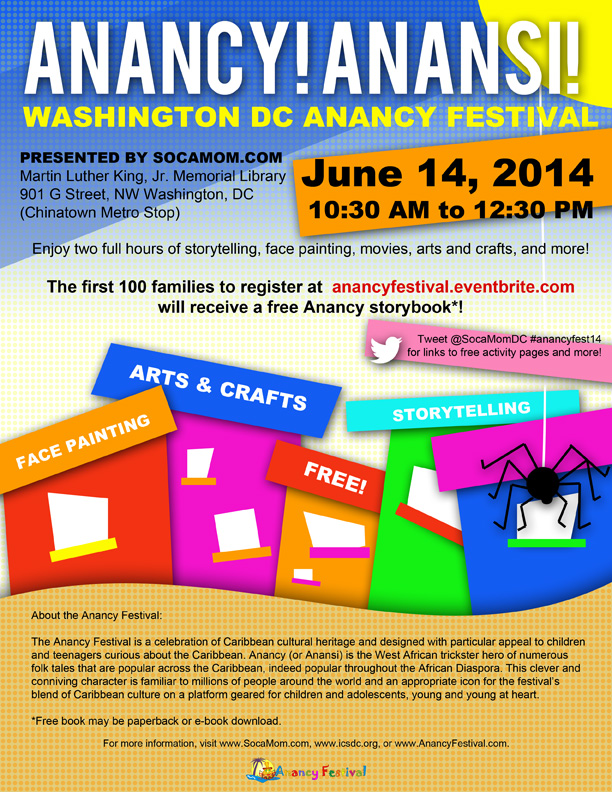 24 Jan
2014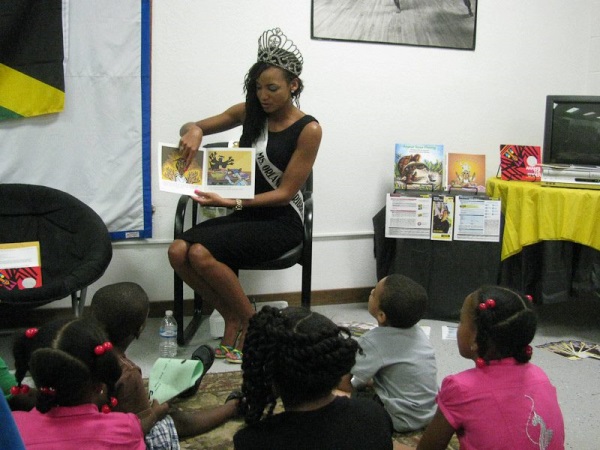 The Anancy Festival 2014 – Six cities. Six events: Orlando, Ft Lauderdale, Washington DC, Atlanta, New York and Boston – June  2014
The Anancy Festival is a celebration of Caribbean cultural heritage and designed with particular appeal to children and teenagers curious about the Caribbean. Anancy (or Anansi) is the West African trickster hero of numerous folk tales that are popular across the Caribbean, indeed popular throughout the African Diaspora. This clever and conniving character is familiar to millions of people around the world and an appropriate icon for the festival's blend of Caribbean culture on a platform geared for children and adolescents.
JUNE 2014 Anancy festival locations
Anancy Festival  New York
Date: June 14th, 2014
Time: 10am-Noon
Location: Langston Hughes Branch, Queens Public Library.
Address: 10001 Northern Blvd, Flushing, NY
Admission: Free
Contact:  Cathy Kleinhans (jamroppo@gmail.com)

Anancy Festival Washington DC
Title: Anancy! Anansi!
Location: Martin Luther King Jr. Memorial Library – District of Columbia Public Library (DCPL), 901 G St, NW, Washington, DC
Room: MLK Room A-5
Date: June 14th, 2014
Time: 10:30 AM to 12:30 PM
Register here:
www.anancyfestivaldc.eventbrite.com
– FREE ANANCY STORYBOOKS* FOR THE FIRST 100 FAMILIES TO REGISTER!

Theatrical presentation, storytelling, and art competition
Contact: Dr. Claire Nelson (clairen@iadb.org)
Anancy Festival Atlanta
Date: Saturday June 14
Time: 1-2:30 pm
Location: Central Library, Lower Level Auditorium and Alcove
Address: 1 Margaret Mitchell Square at the corner of Forsyth Street and Carnegie Way, Atlanta, GA 30303-2513 (Downtown Atlanta). For GPS and Mapquest purposes, use 126 Carnegie Way, Atlanta 30303.
Admission: Free and open to the public.
Description: Enjoy an afternoon of storytelling, arts and crafts, and a film screening with local and regional performers. The years festival will feature a  Caribbean Spelling Bee. Each young attendee will receive a special gift from the Atlanta-Fulton Public Library Foundation. Light refreshments will also be served.
Contact: For additional information contact Sharon Robinson at 404-730-4001x 210 (sharone.robinson@fultoncountyGA.gov)  or Monica Foderingham at 404-730-1808 (Monica.foderingham@fultoncountyGA.gov)
Anancy Festival Orlando
Date:  June 14TH, 2014
Time: 1 pm
Maitland Public Library 501 S. Maitland Avenue,Maitland, FL 32751
(407) 647-7700
Admission: Free
Contact: Sandy Issacs (sandylisaacs@yahoo.com)

Anancy Festival Pembroke Pines
June 28th, 2014
Time: Noon – 4:00 pm
South Regional/Broward College Library
7300 Pines Boulevard, Pembroke Pines, FL 33024
Admission: Free
Contact: Andrea Shaw (andreaeshaw@yahoo.com) or Xavier Murphy (info@anancyfestival.com)
Anancy Festival Boston
Date: June 28, 2014
Time: 11am – 1:00pm
Location: Mattapan Branch of the Boston Public Library
1350 Blue Hill Ave, Mattapan, MA
Contact: events@rashellebrown.com for more details about the event!