The 3rd Annual Anancy Festival
2 Apr 2011 by Anancy Festival,
Comments Off

on The 3rd Annual Anancy Festival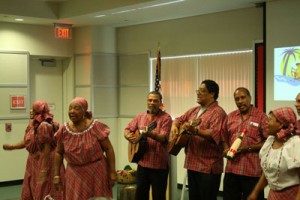 The Anancy Festival is a celebration of Caribbean cultural heritage and designed with particular appeal to children and teenagers curious about the Caribbean. Anancy (or Anansi) is the West African trickster hero of numerous folk tales that are popular across the Caribbean, indeed popular throughout the African Diaspora. This clever and conniving character is familiar to millions of people around the world and an appropriate icon for the festival's blend of Caribbean culture on a platform geared for children and adolescents.
The Anancy Festival will take place in South Florida on Saturday June 11th, 2011 at the Southwest Broward Regional Library in Pembroke Pines located at  7300 Pines Boulevard, Pembroke Pines, FL 33024. Phone: 954-201-8825
What: The Anancy Festival
When: June 11th, 2011
Where: South Regional/Broward College Library
7300 Pines Boulevard, Pembroke Pines, FL 33024
Telephone: 954-201-8825
Time: 2:00 pm – 6.00 pm
Admission: Free